Apple are having a busy year… what with its iPad release, iPhone 4 leaking issues, iPhone 4 release and more recently the whole iPhone 4 Antenna/bumper fiasco, it's been a pretty public year for the tech super giants and today is no different as Apple have secretly just released a whole raft of updates to its online store and its home computer collection.
First out of the blocks is Apple's new Trackpad accessory, with Apple stating: "Why should notebooks have all the fun?"…
The Apple Magic Trackpad is a new Mac accessory that offers Mac users a full Multi Touch Trackpad, similar to a Mac Book Pro or other laptops, the Trackpad is designed to support gesture controls and other features of a normal Trackpad.
The Magic Trackpad will allow users to take advantage of Apple's patented multi-touch technology through a smooth glass and aluminium design, enabling users to scroll smoothly up and down a page with inertial scrolling, pinch to zoom in and out, rotate an image with fingertips and swipe three fingers to flip through a collection of Web pages or photos.
Aesthetically the Magic Trackpad is designed to fit in smoothly with your current Mac setup by sharing the same sculpted aluminium design as the Apple Wireless Keyboard so all those design conscious Mac lovers need not worry.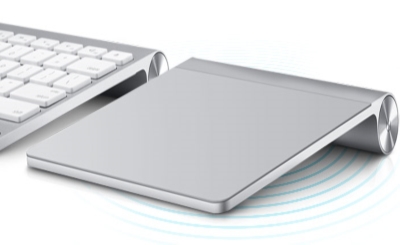 The Apple Magic Touchpad
The Magic Trackpad is made entirely of wear-resistant glass and is the largest Trackpad on offer, offering a new way to navigate and use a Mac computer, and to top it all off the Trackpad is also one giant button… so it can also eradicate the mouse entirely.

The Magic Trackpad supports full gesture control
The Magic Trackpad is works using Bluetooth technology so there is no need for messy wires and reportedly can be used up to 33 feet away (although we have no idea why you would want to do this!) and to help with the wireless nature of the Trackpad, Apple have also released an Apple battery charger for the device.
System Requirements wise the Magic Trackpad requires a Mac OS X Snow Leopard v10.6.4 running machine with Bluetooth Mac and will come with 2 AA batteries included in the pack. The Magic Trackpad is on sale via the US Apple store for $69.99 (roughly £45) and is currently listed on the UK store but there are no official details for the UK release.
Original from:
http://blog.gadgethelpline.com/apple-release-multi-touch-%E2%80%9Cmagic-trackpad/